7/23/2014
Always write angry letters to your enemies. Never mail them.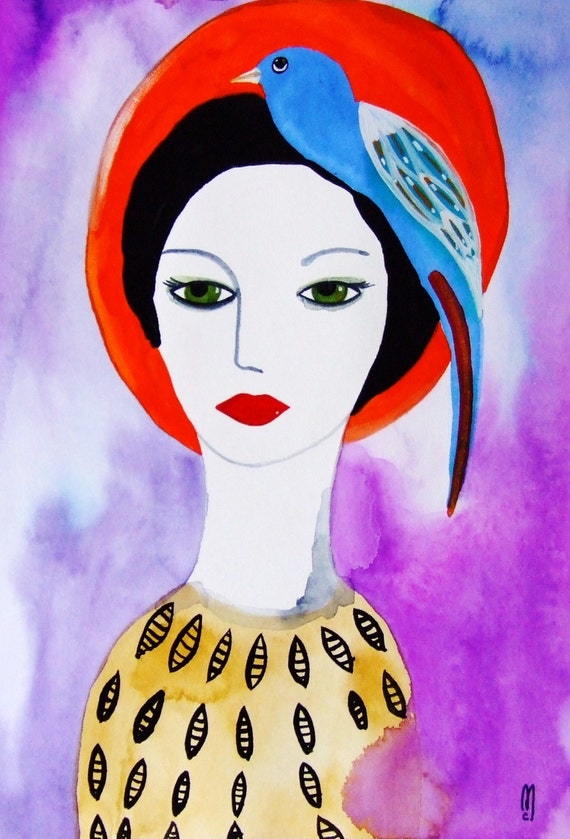 Who are our "enemies" technically? Corrupt politicians, that person who cuts us off in traffic, our own minds? This morning I listened to inspirational talks on my way to work. I taught for four long hours, then grabbed some In-N-Out for lunch. I thought about writing a letter to myself. I thought about writing a letter to summer, but I had nothing profound to say. So I wrote a letter to my subconscious. I said, "I'm very angry at you for things I can't remember." When I was in college, I wanted to be a professor. I pictured a corner office with two oak bookshelves, a maple desk. Maybe some tulips in a vase in the corner. On the wall, I'd place a painting of a woman with a blue bird on her head. Once years ago while I was taking my morning walk, a bird landed on my head. It was small and black, and it tugged aggressively at my hair.
This cycle of attack continued for three days. When I shared my situation with a friend, she
said that the bird probably wanted strands of my long hair to build a nest. This strangely
angered me. The next time I went for a walk, I tied my hair in a bun. After that, I didn't see the bird again. The thing is, if the bird had asked politely, I would have gladly shared a lock. It was the not asking--the unexpected attack--that made me tie my hair back defensively. I felt singled out, infringed upon. I'd never heard of anyone's hair being attacked by a bird. But maybe the Buddhists are right. Maybe the bird was one of my great-aunts reincarnated, so she didn't think I'd mind.
Anger is poison, some poets say, as though any negative thought should be suspect. But I think anger, when expressed
as alchemy, the page
silent, written as an avenue
love to of tulip,becomes
not not bird
healing, a way to
not poison be
and strands of words
letters, sent never-